Living Out Loud
I happen to be one of the lucky winners of the parent lottery. I'm not sure if I've ever talked here about my mum, but in case I haven't, she's the kind of person who makes this a conversation I've had more times than I can count, word-for-word:
Me, to any number of friends: "My mum said to say hi."
The friend: "I love your mum."
Many of those same friends have rarely or never met my dad. Most of us think we lead pretty busy lives, but my dad truly is the poster child for busy people.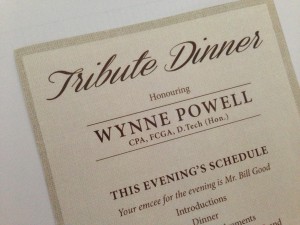 This week, to celebrate his "retirement", a tribute dinner was held in his honour. They didn't bother to call it a retirement dinner, because everyone knows that would be ridiculous. In truth, while he has retired from his primary position, he continues as president of two companies and is still serving in major volunteer positions, a combination that would easily add up to more than a full-time job for most people. For him, it adds up to semi-retirement. But even though he's not about to settle into a rocking chair on a porch, retiring after more than 30 years with London Drugs offered an opportunity for people to come and celebrate his contributions to their lives, their companies, their organizations, and more, and come they did. It was pretty special to be there and see over 700 people (the ones who managed to get tickets before they were all gone) fill the largest ballroom at the Hotel Vancouver to celebrate him and to contribute to the event's secondary purpose as a fundraiser for bursaries at BCIT, his alma mater for which he has been a life-long champion.
In his speech, Brandt Louie, head of the family that owns London Drugs, summed up my dad nicely: "If you know Wynne at all, you will know that telling him something is impossible is his idea of a challenge. While others are still thinking about it, he will just push ahead and show you how it gets done."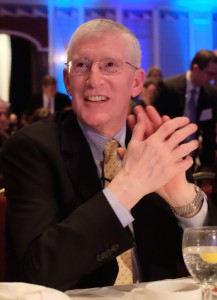 Even though that's absolutely true, he's the kind of person who believes that his success relies on the good team of people around him. His own speech that night touched on many of the experiences that have humbled him, moved him, excited him, and inspired him over the years, from spending time with well-known people like Walter Cronkite and Bill Clinton, whose attitude and intelligence, not their fame, impressed him, to the way the London Drugs family pulled together in the aftermath of the Stanley Cup riots, when the downtown store was hit hard by vandals and the staff was terrorized. There has been nothing boring about his career.
He is often asked to speak to people about leadership, and in his speech on Wednesday, he gave his quick five tips for success. They are pretty straightforward, but they sum up his life pretty well, and I think they should apply to all of our journeys, too:
1. Work hard.
2. Love what you do: if you don't, find something you do love and make the change.
3. Choose courage over popularity: popularity will keep you safe, he said, but it won't let you make hard decisions that break new ground and move you forward.
4. Be curious. Never stop asking questions and learning.
5. Listen. Listen. Listen. Listen to people who know more than you do, to good people whose opinions you value, to your own intuition, but never to naysayers and critics. "The critic club," he said, "is the easiest one to join."
If you're interested, there's a great press release about the evening here.